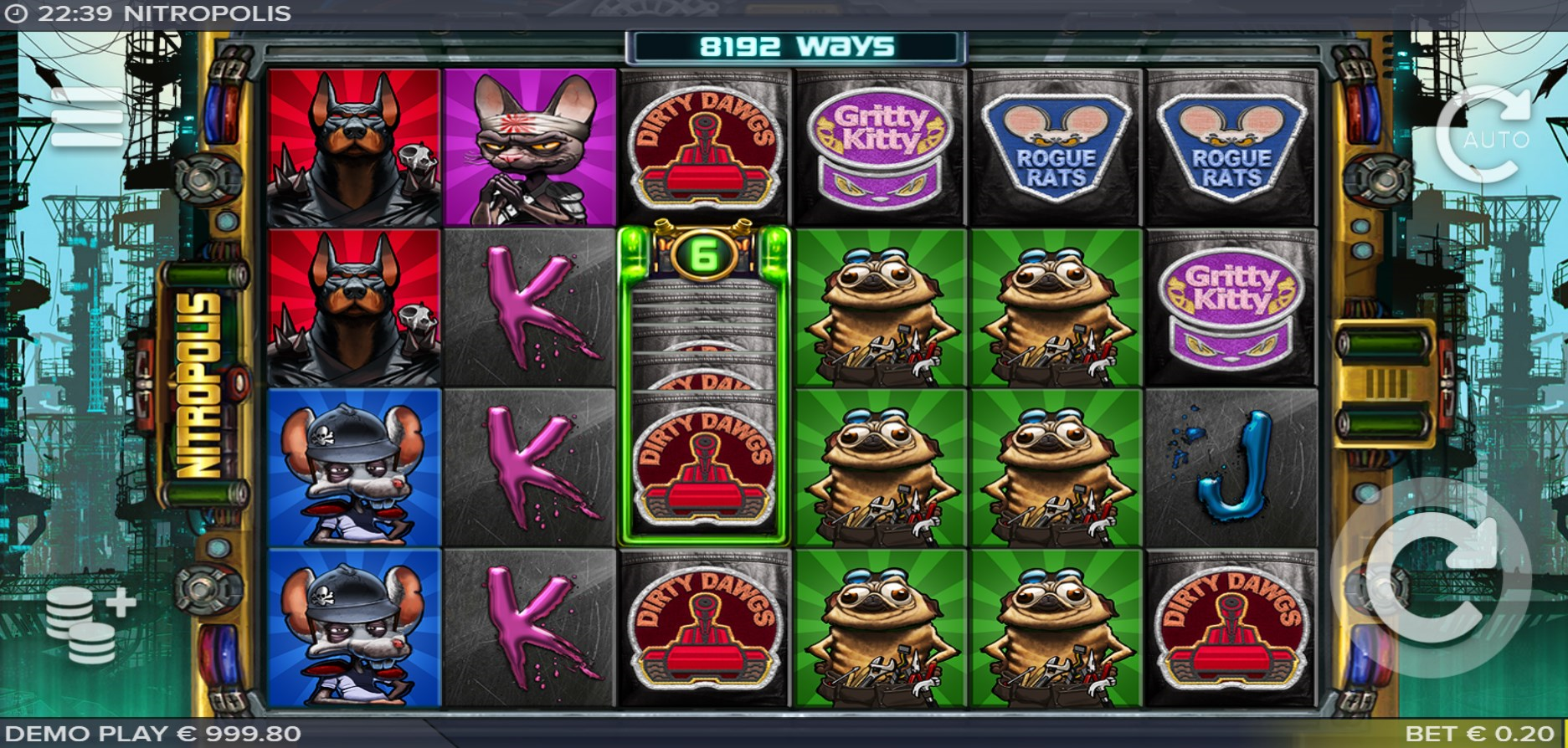 Not everyone gets the sparkling Christmas vibes, we have to admit it.
And even if you're up to getting another engraved hip flask or Target GiftCard, there's nothing wrong in entertaining yourself and playing a bit with your precious coins.
Here we collected top 5 post-apocalyptic, infernal games to cheer you up during the holiday season – if you're looking for a new crypto slot to play before 2022, you'll definitely find it here.
Nitropolis
Nitropolis, the popular game from ELK Studios, is a high volatility, 6 x 4 crypto slot machine giving you the chance to get a high paying jackpot without having to bet a lot of money.
The game showcases four clans: The Dirty Dawgs, the Gritty Kitties, the Pug Thugs, and the Rogue Rats. Each clan has its own background, symbol, and special feature. Feel free to choose the right clan that suits your mood.
However, by the end of the day all the creatures have a common goal – they're fighting for Nitro – greenish gasoline fuelling their cars.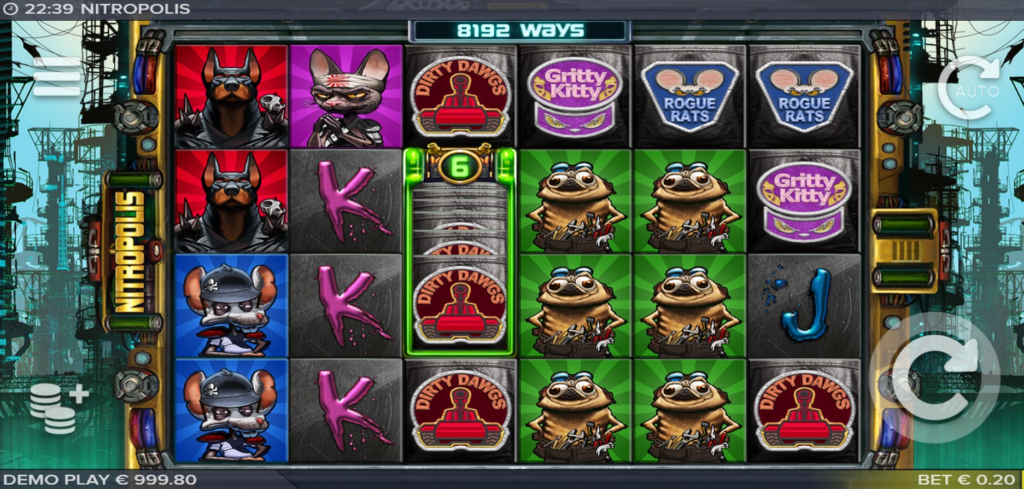 The return to player (RTP) equals 96.1% of the money that is wagered – it basically means that there might be fewer payouts but they are definitely larger.
If you're curious what it looks like – here is a video featuring some massive Nitropolis wins.
There are 4 betting strategies: Optimizer, Leveller, Booster and Jumper.
Both leveller and booster reset after the win while jumper resets after the loss.
In the optimizer mode, the percentage of your balance is automatically adjusted to match selected %.
The levellers help you to win as much as possible. For the booster mode, bets on red and black colours are increased by 30% for each bet.
The jumpers will multiply your win by 5 times. But if you lose a round with this mode on, your winnings will be lost as well. It is also interesting that the game has no wild symbols but it is compensated by 3 scatters: the clock, the map and the treasure chest.
One of the best things about Nitropolis is that it has only four rows which makes it easy and less confusing when spinning the reels. This is why this slot machine is more suitable for beginners who want to test their luck on a simple game of chance without having to learn too many things at once.
It may seem simple but it is still very exciting because there are so many features that can help you win big.
There's even an Autoplay option that allows players to keep spinning the reels for hours without having to press any button. Just set the number of spins and let the game roll. Just remember – you are not allowed to change your bet during the ongoing spin (nor in the Bonus mode).
The coolest thing? Nitro Reels!
Nitro Reels always are behind two symbol places and hold a number of identical symbols, ranging from 4 to 12. Nitro Reels is kind of like a slots Kinder Surprise Egg – it randomly upgrades the game but you can't really expect the outcome.
Sometimes it's another respin at the end of a non-winning spin and sometimes it's additional numbers of the same winning symbol helping you win bigger.
In the bonus mode, all Nitro Reels lock and stay there for all the remaining spins.
How to start playing?
By default you start with the demo mode and getting to the real game requires taking a few steps. Only casino registered accounts allow you to play with real money and to win real money.
By the way, we highly recommend you try to play with the sound on, it gives you the feeling of excitement and reminds us a bit of Sonic the Hedgehog 2 soundtrack from the early 90s.
Nitropolis 2
Nitropolis 2 is a 2021 sequel to Nitropolis and comes with a lot of new features.
In the short youtube teaser released by ELK Studio themselves, one can hear: "It's so awesome that even Satan itself would play it". If Satan would, why wouldn't you? 😉
What's the difference?
Plot
In the upgraded version Sergeant Nitro Wolf jumps into the post-apocalyptic city to clean up the city's filth. Make him successful and keep winning at the same time. He will reward you with 1x your stake for having 6 in combination.
X-iter™
X-iter is an entirely new approach to play slots. It lets players choose among different preset game modes to suit their mood and scenario preferences while preserving the core of each game. With X-iter players find it easier to leap directly into the action. In Nitropolis 2, there are 5 predefined modes.
The X-iter modes vary each game and can include guaranteed base game features, spins with increasing win multipliers, or a direct entry to a variety of bonus games. In our filthy city all of that is included, how cool is that!?
Wild symbols
The Wild symbol can replace all symbols apart from the bonus symbols.

This is a great game, with a lot of action, and if you get lucky, you can hit some really big wins. The RTP is 95%, and betting is possible within the 0.20 – 100 range per slot. Sound effects and music are engaging, making for an enjoyable slot experience.
Mobile version
The new Nitropolis 2 game is now available for Android devices through Google Play and for iOS devices through any App Store, so better be sure to get it now! 😋
And if you're not convinced yet, make sure you watch CasinoDaddy's epic win on YouTube.
Inferno Slots
Are you about to explode from the buzz of Christmas preparations?
Relax, we have a cure!
Do you miss the good old days? You should definitely try out the retro Inferno slots – Inferno Star and Inferno Joker. These sweet, fruit-themed games take you back in time to Vegas in the early 90s and let you try the oldies we used to play some time ago.
These games are powered by Play'n GO, so you can play them for real money as well: it's possible to play the slot with bitcoin or with international fiat currencies.
RTP is between 96 – 94% depending on the operators you use and like in every high volatility slot – the payout is sweet and fruity.
Inferno Star
On the 3 x 5 reels, there are six fruit symbols: grapes, lemons, plums, apples, cherries, and melons listed in ascending order. There's also a burning sun, and a scatter symbol – the Raging Sun.
When you have similar symbols 5 in the line – you multiply your investment from 25 to 75 times. When the sun symbol appears on a line, you win 500 times your bet.
The Raging Sun Re-Spins feature is the slot's trademark feature. A Raging Scatter Sun Symbol on the third reel initiates it. It multiplies your wins by the bet size.
In Inferno Slots, you can get up to 6 Raging Sun Re-Spins in a row! The feature is active on all three reels at once, so you can win up to 12 times.
Moreover, you can choose between two types of betting: manual and auto. In manual mode, you can control how much you're going to bet per spin and how many lines are going to be activated. In auto mode, the game will play automatically and bet for you.
In addition to the progressive jackpot, which is available only on Inferno Star, there are also other game features – Wilds, and Re-Spin Bonus Rounds.
Here you can check how LetsGiveItASpin, a famous casino streamer plays Inferno Star slot and wins loads of money.
Inferno Joker
Inferno Joker is a bright, colorful, lively and dynamic game which will surely delight those who like classic slot machines.

It is a perfect example of the slots people played in the offline era: the symbols include famous lucky sevens, gold bars, fruit and two Jokers. One, HP, creating winning combos across the game's paylines and the other one – the scatter.
This 2019 game lets you win 2500x of your total bet (not more than €250,000 though).
When there are Inferno Joker Re-Spins all HP Jokers instantly change into Inferno Scatter symbols.
Mobile version
Both slot games are available for any desktop, Android and iOS devices through App Stores – you can take them with you anywhere you want to go.

Now It's time to spin the reels, because there is nothing better than retro slots during Christmas holidays!
Kings Of Cash
Kings Of Cash slot is one of Microgaming's most popular slots. It is a 5 reels and 15 paylines online slot game with Double Wild and Double Game feature. In the Double Mode cash prizes are multiplied by the bet per line.
It's a medieval-themed slot and the sound effects are pretty basic. The reels are packed with kings, treasure chests and emblems.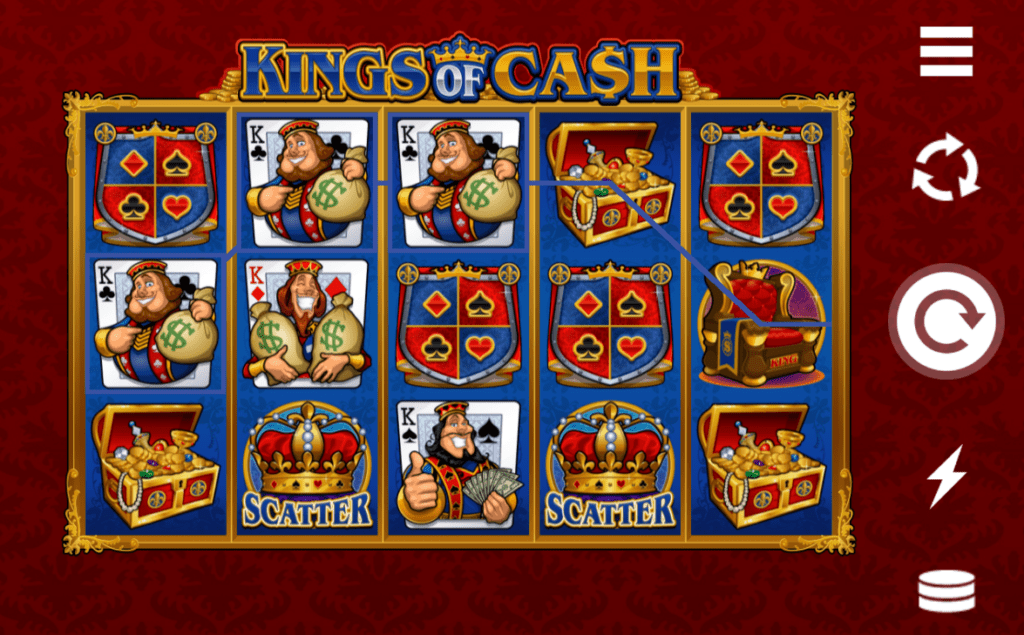 Mobile version
Unfortunately there is no mobile version available for Kings-Of-Cash. But you can play both slots and casino games on your mobile device. Most mobile friendly casinos offer their no download software to be played directly on device.
Overall, Kings Of Cash bitcoin slot is a simple game and a great place to win some bitcoin gold. If you're looking for a royal amusement – definitely go and play this slot here.
Summary
If you are looking for fun and interactive slots for holiday, the above games are your best choice. With the retro design, playing these games feel like reading a comic book or watching an animated movie – they're incredibly engaging and immersive, especially when combined with catchy music and sound effects.