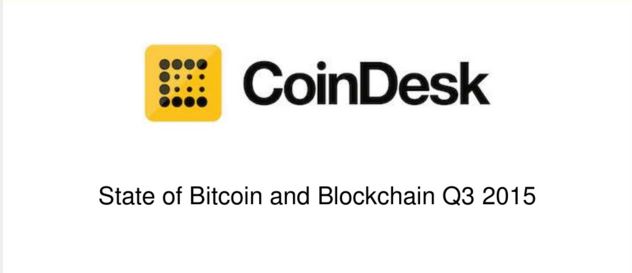 Coindesk, a leading Bitcoin digital media service, has just released its 2015 third quarter report on the state of Bitcoin and Blockchain. One of the points that stand out, in the report that was prepared in conjunction with Coinalytics-a Blockchain data solution company, is that investment that is going into Bitcoin startups is no longer outpacing what was going into early internet startups.
According to the report, Bitcoin is projected to receive about $607 million in 2015. At the same point of growth in 1996, the internet received investment that amounted to about $639 million. These figures are contrasted with $362 million that went into Bitcoin startups in 2014 and $250 million that was invested in internet startups in 1995.
A drop of 11% in 3rd quarter of 2015
As a matter of fact, it appears that investment into Bitcoin and blockchain did shrink in the third quarter of 2015 by 11%. Investors put about $85million in the sector as compared to $145 in the second quarter of the year.
Out of the quarter investment, Chain, a startup building blockchain networks, and Bitfury, a mining firm, took the lion share; a combined value of $50 million.
Chain was able to attract a first round investment of $30 million from leading financial industry leaders that include Visa, Nasdaq, Citi and Capitalone. Bitfury got $20 million in its third round of investment from The Georgian Co-Investment fund, DRW venture Capital and iTech Capital.
Seasonal factors or changing tides
The state of Bitcoin and Blockchain Q3 2015 report could not tell whether the shrinking of investment is due to seasonal factors or is an early signal of deteriorating funding environment for Bitcoin and Blockchain startups.
However, even with these low numbers, Bitcoin is still outpacing other fast growing startup sectors such as photo sharing, photo sharing and even space travel.
You may also be interested to read Chain Casino Makes Provably Fair Games Available to Operators